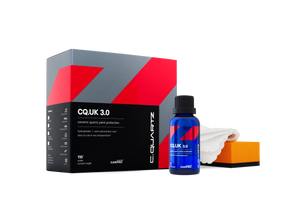 CarPro Cquartz UK 3.0 - Ceramic Coating
The next evolution of ceramic coating technology is here!  CQuartz UK is world renowned for being the strongest ceramic coating on the open market!  Rivaling many "pro grade" products, CQuartz UK has been embraced by fans all across the world however CarPro is never one to wait for others to catch up so they set out to improve CQuartz UK even further!  The new and improved CQuartz UK 3.0 now features easy use in all climates!  
In our REAL WORLD tests we have found CQuartz to outlast the competition in side by side, apples to apples torture tests.  One of the many reasons we continue to offer CQuartz as our ceramic coating brand of choice is their commitment to innovation and the simple but critically important fact that CarPro continues to tell us and you the truth and base their claims on reality.  
CQuartz UK 3.0 offers incredible resistance to chemicals, salt, and environmental damage as well as provide excellent UV protection!  The high silica-quartz content creates a hard glassy layer across painted or gel-coat surfaces.  CQuartz UK adds incredible levels of depth to the paint along with unbelievable water and dirt repellency and a rugged durability measured in years!    
 Kit Includes
(1) 50ml bottle of CQuartz UK 3.0 (Use 15ml+/- per coat - average size car)
(1) CarPro Foam Applicator Block
(5) 4" MF Suede applicators
(1) 16" Microfiber Suede Towel
(1) Reflective Hologram CQuartz sticker
(1) Rear View Mirror Hanger (Optional)
 Features
-Protection and gloss superior to that of competitor "professional coatings" but easy to use for all detailers
-Extremely high Sio2 Quartz content
-Deep gloss that lasts!
-Easy maintenance with "self cleaning" properties (Stays cleaner than other products on the market)
-Resistance to wash induced marring, bird dropping damage, stains, high or low temperatures, and traffic film
-Repels UV rays, water, oils, dirt, and contaminants 
Specifications:
-Durability: 2 years or more
-Average Thickness: 1~2 Micron per coat
-Coverage 15ml per coat +/-
-Water contact angle: 110° 
-Minor filling
-Recommended working temperatures: 40F to 100F
Recommended Surfaces
-Paint
-Metal 
-Plastic
-And more
Tips
-If contamination exists, Iron X and clay your vehicle before polishing.
-To gain the most from Cquartz your vehicle should have all surfaces 100% clean and paint polished to a high level
-Use CarPro Reflect to achieve an incredible high gloss finish in less time with no fillers 
-Use CarPro Eraser to remove any oils leftover after polishing - This is critical to ensure durability of CQuartz
-We recommend Coating Removal Towels: CarPro 2 Face (No Lint) 16" x 16" - Blue/ Orange 10 Pack, Microfiber Madness Slogger (16" x 16") or Edgeless White Polish Towel - 16" x 16"
-We recommend Extra Suede Applicators if applying more than 1 coat - CarPro Suede MicroFiber Applicator 4"x4" 10 PACK
-Finding the right time to "level" (wipe off) excess coating after it flashes:    
-Start with a single 2ft x 2ft test section to determine flash time before applying coating to entire vehicle.  Flash time will vary depending on temperature, humidity, air movement, paint type, how thick it is applied, and more.
-If coating is applied thick then the coating will take longer to flash. If applied thin it will flash faster.  Hot temps will cause it to flash faster, Cold Temps will cause it to flash slower.  Air movement will cause it to flash faster.  
-When it starts to flash you will see colors that will make the coating look like a rainbow or oil slick. You will see hints of blue, purple, red, and yellow.  
-Remove too soon and it will be oily with no grab to it when wiping.  If you wipe off too soon it will not give the coating a chance to bond.
-Remove too late and it becomes hard to remove. 
-The time to remove is when you feel just a little push back or "grab" against your towel but it is not difficult to remove and it is no longer oily.  It may leave some streaks at first but with the second wipe of a fresh clean side of the towel, the streaks should wipe off and the paint should be nice and clear. 
-Lighting - Lighting is key to make sure you wipe off completely when you do wipe off.  You don't want spot lighting like would use on paint correction but ambient lighting. Look at the paint from different angles to make sure none of the coating is missed. Spot lighting will "wash out" the high spots visually. Think of it like this: when you wipe off a sealant you have hours to go and check it again outside or in other lighting.  In this case you need to pay attention as you go rather then wait an hour. Thorough removal of the coating is very necessary as any product left on the surface will harden and require polishing to remove soon after.
-Cquartz UK 3.0 – Depending on the environment you are working in, it may start to become somewhat difficult to remove within the first 2-4 mins. It may feel tacky and or super grippy and it will smear and leave streaking. If that happens you will want to wait an additional 1 min and do a small test wipe to check. Continue checking in 1 min increments until coating wipes off clean and easy. 
-High spots - A high spot is excess coating that was not leveled (wiped off).  Most of the time it will look like an application mark. If you discover to them within minutes then a bit more product will lift them.  Otherwise you would use a dot of finishing polish such as CarPro Essence or Reflect and rub the high spot off, wipe it down with Eraser or your IPA of choice, and then re-coat that area and onto the area around it by about 6".  Then start wiping off the perimeter immediately and slowly work inwards to feather it until you reach the area you are trying to re-coat at the appropriate time. 
Directions: Use only in good ambient lighting
Precautions
-Do not apply in direct sun or on hot surface
-Do not re-use 4" Suede applicators
-Do not re-use the towels you used to buff off with on paint
-Wear hand protection
-Wear respiratory protection such as painters mask
Read "Tips" above before coating
---