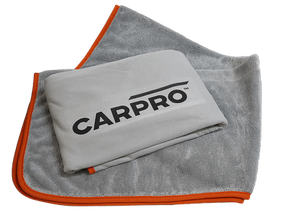 CarPro DHydrate Drying Towel
The new CarPro DHydrate Drying Towel is chaning the game! This new towel will easily allow you to dry your entire vehicle quickly while greatly reducing the risk of creating the dreaded swirl marks and micromarring. Simply use the blot method your gently lay the towel over the surface and gently pull it to the edge of the panel. These drying towels work great on glass too! Wring it out and continue on. These towels are a light grey which greatly reduces the chances of making sure if you do accidentally pick up any debris it will be easily spotted against the light grey contrasting color. 

Target Applications:
Features:
Extremely Absorbent!

MicroFiber Edge

Tagless

Lint Free

Stays soft and paint safe, wash after wash
Specifications:

Size: 19.685" x 19.685"

Blend: 80/20

Gsm: 540

Edge: Orange Microfiber

Color: Grey

Made in: Korea
Microfiber Care:
Washing microfiber towels isn't much different than washing other garments but there are a few things to remember. They need to be washed separately from other towels used for different tasks. Don't wash towels used for sealants or polishes with your drying or washing towels as the effectiveness of the towels will be reduced over time from the remaining residue not removed in the wash process. Use a good quality microfiber towel soap and remember to only dry on low heat. 

---