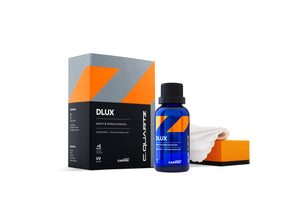 CarPro DLux Plastic and Wheel Coating
CarPro's CQuartz Dlux has quickly became one of the best plastic and trim coating and restorations products on the market. Made from quality high-grade organic silane, it contains more than 50% pure silica!   DLux was developed to offer a more permanent solution to restoring and protecting aging trim or new trim looking for the best protection available.  CQuartz Dlux was designed for use on most plastics as well as metal and rubber. All wheel finishes can be protected with Dlux as its extremely temperature stable offering potentially years of protection, easy of maintenance and incredible looks to your wheels and plastic trim.

Contents:
(1) CQUARTZ DLUX 30ml.

(4) 4"x4" Suede MF applicators

(1) Foam Block Applicator
Features:
Withstands temperatures of over 800F

Very simple to apply on textured plastics

Excellent UV protection on all exterior substrates.

Versatility: Plastics, Wheels, and rubber surfaces

Average use for 4 wheels and all plastic trim = 10ml.
Applications: 
Plastic Trim

Rubber Trim

Engine Bay

Headlights, Fog lights, & Tail lights

Wheels

Tires

Metal Trim

Exhaust Tips

Chrome

Plastic Wheel Wells
Preparation for Application On Plastic:
Make sure the surface is cool and dry. (Do not apply to hot surfaces or in direct sun.)

Scrub surface with an all purpose cleaner and microfiber towel

Rinse while agitating with microfiber towel to remove all residue from APC

Dry surface

Wipe surface with Carpro Eraser, wipe dry, and then allow plastic to evaporate 20 minutes before applying
Directions for Plastic:
Wet the applicator with a strip of DLUX and spread evenly across a small area at a time.

When applying it is VERY important to work one area in even as you go.  

Start in one corner and work out! / Do not take on a huge area at once.  

Apply nice and even as you go.   Do not try to spread too thin but be sure to work it to an even coat in the first minute before moving to the next overlapping area.  After a minute you should not be going back over an area that was applied.

On Textured trim do not wipe it off, just be sure you apply evenly as mentioned.
* On smooth plastic you should wipe it off before it becomes too sticky.  This results in a thinner coat that doesn't last as long but on some smooth plastics there is not an easy way to apply it evenly.
Directions for Paint and Chrome:
Wash thoroughly

Decontaminate with Iron X 

Polish surface as needed

Wipedown with CarPro Eraser

On rims (metal, chrome, clear coat, etc) let cure 1 minute at 90F up to 8 minutes at 50F and use a CarPro 2 Face Microfiber to wipe it off in a circle motion until clear
Precautions:
Allow to cure 1-3 hours without water being introduced to surface.  If wet during first 24 hours wipe off water before it dries on surface as a precaution.

After 3 days you are free to wash with all your regular car washes.

Avoid contact with skin and eyes

Wear gloves

Do not use for other purposes

Keep out of reach of children

Keep away from heat

Do not ingest
---